GALLERI/GALLERY/GALERIE VENUS
Alma Mater
Axel Wallenberg
---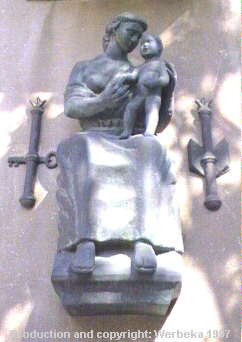 Denna skulptur finns på fasaden till nya byggnaden av Rudbeckianska gymnasiet. Verket, som skapades 1966, har Mariabilden på skolans sigill från 1681 som förebild.

This sculpture is on the wall of the new building of the Rudbeckianska high-school. Created in 1966, it has the image of the Holy Mother on the school's seal from 1681 as a model.

Diese Skulptur, auf der Fassade des neuen Gebäudes des Rudbeckianischen Gymnasiums, wurde 1966 erschaffen. Das Werk hat das Marienbild auf dem Siegel der Schule von 1681 als Vorbild.







| | | | | | | | | |
| --- | --- | --- | --- | --- | --- | --- | --- | --- |
| Tillbaka till | , | till | , | till | | eller till | | av Werbeka Netshop |
| Back to the | , | to the | , | to the | | or to the | | of Werbeka Netshop |
| Zurück zur | , | zur | , | zu den | | oder zum | | von Werbeka Netshop |
---
last update: 17.8.1997 by webmaster@werbeka.com