GALLERI/GALLERY/GALERIE VENUS
Måsar / Gulls / Möwen
Karl Gunnar Lindahl
---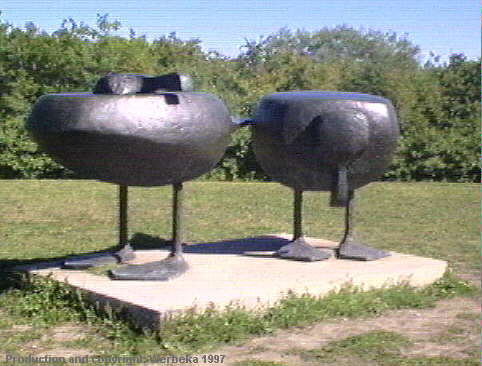 Måsarna tillverkades 1965 och kom, efter 4 år i Stallhagen, till sin nuvarande plats vid Lögarängen. De står nu högst uppe på en kulle och tittar ner på alla solbadande semesterfirare och över det glittrande vattnet från Mälaren.
The Gulls were made in 1965 and - after 4 years in Stallhagen - were finally placed at Lögarängen. Now they are standing on top of a hill, looking down onto all those sunbathing people, enjoying their holiday, as well as over the glittering water of Lake Mälaren.
Die Möwen entstanden 1965 und kamen, nach 4 Jahren in Stallhagen, auf ihren jetztigen Platz bei Lögarängen. Nun stehen sie ganz oben auf einem Hügel und sehen auf all die sonnenbadenden Urlauber nieder und hinaus auf das glitzernde Wasser des Mälarsees.
| | | | | | | | | |
| --- | --- | --- | --- | --- | --- | --- | --- | --- |
| Tillbaka till | , | till | , | till | | eller till | | av Werbeka Netshop |
| Back to the | , | to the | , | to the | | or to the | | of Werbeka Netshop |
| Zurück zur | , | zur | , | zu den | | oder zum | | von Werbeka Netshop |
---
last update: 16.8.1997 by webmaster@werbeka.com