GALLERI/GALLERY/GALERIE VENUS
Morgonbad / Morning Bath / Morgenbad
Anders Zorn
---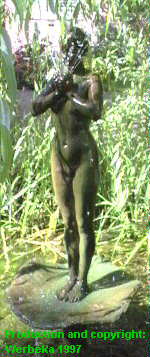 Detta verk är en av tre kopior, som finns. Originalet ställde Zorn upp framför Zorngården i Mora. Det skapades 1908. I Västerås står denna välbalanserade lilla fontän i botaniska trädgården vid stadsbiblioteket.
This piece of art is one of three copies. The original was placed by the artist in front of the Zorn manor in Mora. It was created in 1908. In Västeras this well-balanced little fountain is standing in the botanical garden, next to the library.
Dieses Werk ist eine der drei Kopien, die es davon gibt. Das Original stellte der Künstler vor seinem Haus in Mora auf. Er erschuf es 1908. In Västerås steht diese schön balancierte Fontäne im botanischen Garten neben der Bibliothek.
| | | | | | | | | |
| --- | --- | --- | --- | --- | --- | --- | --- | --- |
| Tillbaka till | , | till | , | till | | eller till | | av Werbeka Netshop |
| Back to the | , | to the | , | to the | | or to the | | of Werbeka Netshop |
| Zurück zur | , | zur | , | zu den | | oder zum | | von Werbeka Netshop |
---
last update: 17.8.1997 by webmaster@werbeka.com