GALLERI/GALLERY/GALERIE VENUS
Paret / The Couple / Das Paar
Rolf Steiner
---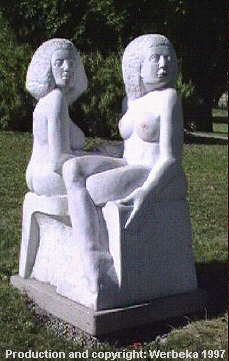 Paret är en gåva av Västerås vänort i Tyskland, Kassel. Skulptören Rolf Steiner högg ut verket ur marmorstenen i Västerås. Det skedde 1990 och anledningen därtill var att staden firade 1000års-jubileum. Idag sitter paret i Stadsparken.
The Couple is a gift from Kassel in Germany, affiliated town of Västerås. The artist, Rolf Steiner, carved his monument out of the marble boulder in Västerås. This happened in 1990 on account of the city's 1000th anniversary. Today the Couple is sitting in Stadsparken.
Das Paar ist ein Geschenk von Västerås deutscher Partnerstadt, Kassel. Der Bildhauer Rolf Steiner bearbeitete den Marmorblock vor Ort in Västerås. Das geschah 1990 und der Grund dafür war das 1000jährige Jubiläum der Stadt. Heute sitzt das Paar in Stadsparken.
| | | | | | | | | |
| --- | --- | --- | --- | --- | --- | --- | --- | --- |
| Tillbaka till | , | till | , | till | | eller till | | av Werbeka Netshop |
| Back to the | , | to the | , | to the | | or to the | | of Werbeka Netshop |
| Zurück zur | , | zur | , | zu den | | oder zum | | von Werbeka Netshop |
---
last update: 16.8.1997 by webmaster@werbeka.com