GALLERI/GALLERY/GALERIE VENUS
Franz Schubert
---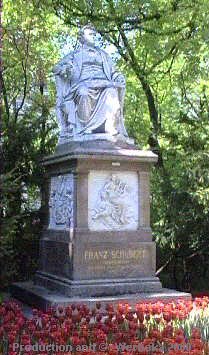 Franz Schubert, född som tolfte av nitton barn, dog i den tidiga åldern av 31 år, men efterlämnade trots detta ett enormt musikaliskt arv. Hans minnesstod, som stiftades av Wiener Männergesangsverein, skapades av Carl Kundmanns händer, år 1872. Den står sedan dess i Stadtpark.
Franz Schubert, the 12th of 19 children in his family, died at the early age of 31, but nevertheless left an enormous musical heritage. His memorial, standing in the Stadtpark, was payed for by the Wiener Männergesangsverein and formed by the hands of Carl Kundmann in 1872.
Franz Schubert, geboren als 12. von 19 Kindern wurde nur 31 Jahre alt, hinterließ aber dennoch ein riesiges musikalisches Erbe. Sein Denkmal im Stadtpark, gestiftet vom Wiener Männergesangsverein, entstand durch die Hand von Carl Kundmann, der es 1872 fertigstellte.
| | | | | | | | | |
| --- | --- | --- | --- | --- | --- | --- | --- | --- |
| Tillbaka till | , | till | , | till | | eller till | | av Werbeka Netshop |
| Back to | , | to the | , | to | | or to the | | of Werbeka Netshop |
| Zurück zu | , | zur | , | zu den | | oder zum | | von Werbeka Netshop |
---
last update: 11.5.2000 by webmaster@werbeka.com